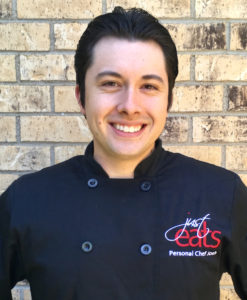 "Our dinner with Chef Josh last month was one of the most delightful memories from our holiday season this year.  He was incredibly thoughtful and engaging throughout the planning process; the preparation, presentation, food, and experience was absolutely exquisite.  Our friends also raved about what a wonderful gift and celebration this meal was for them.  My sincerest thank you to Josh for creating this experience and these memories.  We can't wait to use Just Eats again in the future!"
– Jennifer, Garland

My culinary career began early, at age fourteen. At home, I was responsible to cook dinner for my family and I took a liking to it, enough that I chose to further my research into restaurants and food.
Upon my acceptance to the Culinary Institute of America (NYC), my journey through the nuances of world cuisine began under the watchful gaze of many prestigious certified master chefs. I honed my techniques, and expanded my palate, to include Asian, Classical French, and Contemporary American cuisine. I was one of the youngest graduates of the Culinary Academy when my courses were completed at age 19.
My food also has many Cajun influences, due to my time working at La Provence in New Orleans. Later I moved back to Texas to work at the Fort Worth Club with Culinary Gold Medalist Chef Prefontaine. We focused on wine dinners and large banquets, with rigorous from-scratch standards, emphasizing local flavors, to bring the tastes of Texas to our patrons.
To this day, I continue to learn and perfect my craft, so I can bring the comforts of fine dining to my patrons' homes while catering to special nutritional needs and using my wide product knowledge to bring more flavor to those with dietary restrictions or those with calorie restrictions.