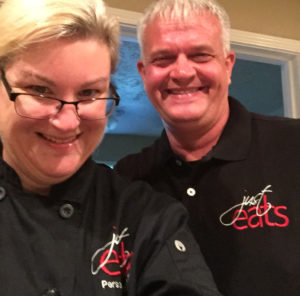 I have been surrounded by great food my entire life. I grew up in Colorado, on a modest farm/ranch, the youngest son of a father who was a true farmer at heart. I was raised tending a one-acre vegetable garden that my family lived off of for 6 months of the year, hoeing, harvesting, and prepping vegetables for my mom to cook and can. We had a garden, an orchard, cattle, milking cows, poultry, hives of bees and lots of love.
I have always had a passion for food and turned that passion into a career. I graduated from the El Centro Culinary Program and got my feet wet at Potager Café in Arlington, where I worked for 4½ years. I learned great cooking techniques at El Centro and put them into practice at Potager. I learned how to create and produce food in a nurturing, creative environment that thrived on innovation and personal relationships. I have learned you have to love cooking and the people you cook for in order to produce the best tasting food.
I see my clients as family. I learn what they like and work towards creating healthy, great tasting food. I see food not only as nurturing our bodies but also as feeding our souls, as we gather around the dinner table to eat a meal. I love cooking for people with dietary restrictions, allergies and sensitivities, because I believe all people should be able to enjoy their food. I work toward creating the best tasting food within the limitations of their diet.