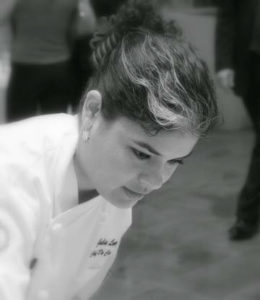 "Food is life, good food is a good life…"
Chef Julia Lopez was born in Chicago, IL, but grew up in Chihuahua, Mexico. After graduating from college in Mexico, and while in El Paso, she felt attracted by a career in the Hospitality Industry. In 1999 Julia came to Dallas and attended El Centro Community College Culinary Art Program. During her academic period, she participated in numerous culinary competitions, achieving high recognition and her professors' favor.
Her potential was swiftly recognized by Marriott International in 2000 and was offered a position at the DFW Marriott South River City Grill.
In 2001 she went to work for The Mansion on Turtle Creek under the direct supervision of Chef Dean Fearing. After becoming the Chef Saucier, she joined the nationally acclaimed La Duni Latin Café in 2003.
In 2004 she was appointed Chef de Cuisine at the sibling La Duni Latin Kitchen and Baking Studio. After only one year of operations, the restaurant received the coveted accolade "Among Best Restaurants in America" by Gourmet Magazine October 2005, where she continued to develop her skills and passion for latin cuisine.
In 2006 she was promoted to Corporate Chef where she oversaw the culinary development team of La Duni North America and the creation and implementation of new menu items, and food quality consistency system-wide. She has also collaborated in the creation and implementation of a number of concepts in Chicago and other cities.
Chef Julia was also appointed as Executive Chef of the new concept ALO "Street Foods of Mexico & Peru" on January 07. The restaurant opened in July and by end of the year, it was named among "Top 10 new restaurants of 2007" by The Dallas Morning News.
From 2008 to 2016 she supervised the opening of multiple La Duni locations and derived concepts, including the flagship location at NorthPark Center.
In 2017 she decided to pursue her own direction and became a consultant for multiple concepts and brands, including Tabasco brand. She also developed her own product line under Julia's Kitchen brand, as well as providing her cooking talent for personal chef services, special events and catering. Her specialities include Latin, French, Italian, Spanish Cuisines and Healthy cooking practices with strong respect for the integrity of the ingredients and special diets.
Chef Julia is excited to have joined the Just Eats team and transition to a closer relationship with those enjoying her wonderful cooking. After an illustrious career in public food service, she is enjoying a new challenge.