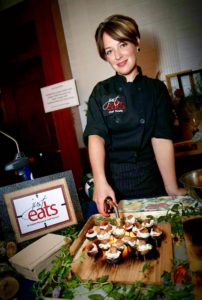 "Omg!! I can't brag on you guys and the service we received enough. I wish I had criticism… only because you asked lol!! WOW, you guys I can't thank you enough. Your professionalism and personable attitude made it a magical night to remember, my husband is still bragging. The food was…one word DELICIOUS!!!! This really felt like a full restaurant experience in our very home. All of our meals were served and explained to us and you guys cleaned my kitchen afterwards better than I do!!! Not to mention you all took out the trash! This was a wonderful experience from start to finish. Going to book you guys for everything!!"
– Mecci, Forney

"Chef Noelle provided an absolutely extraordinary experience for a milestone birthday party at my house.  She took care of every detail, from offering glorious menu options for us to mix and match to recommendations on wine.  I would eat her short ribs every day if I could… although it's a pretty close race with the beet salad!  It is such a treat to have someone take care of everything for a party in your own home.  She sweetly "shooed" me away from the kitchen to go enjoy cocktails with my guests while she and her assistant prepared the meal.  They served each course with a lovely description and were always available for a refill on wine.  I look forward to the next occasion when we can have her back as our Personal Chef again!"
– Sheri, Dallas

Noelle grew up with a chef and restaurant owner for a father, where she learned at an early age that quality food was an essential ingredient to good living. As a child, she watched her family prepare culinary masterpieces from scratch.
Noelle leads a healthy lifestyle through fitness and healthful cuisine. She believes in preparing fresh nutritious meals to assist her clients in maintaining their healthy lifestyle. Her goal is to assist her clients in making healthier choices and to show that eating healthy doesn't mean sacrificing flavor or variety. Her clients range from single individuals to families and include several professional athletes.
"From a young age, I had a passion for everything oriented around food. When I turned 25, decided to switch careers, so I turned my passion into my career and entered Dallas' El Centro College Culinary Program, a classical French culinary school. I absorbed all the techniques to prepare me for my culinary career. While in school, one of my classmates mentioned the field of being a personal and private chef. From that point on, my goal was to eventually have my own personal chef business with a focus on healthy cuisines.
After apprenticing at various types of food establishments and graduating with a new associates degree. Working full time at four-star Del Frisco's in Dallas came naturally. I then took a Sous Chef position on a private five-star cruise line in the Gulf of Alaska. When I returned, I started catering at Food Company, popular healthy food catering business also in Dallas. When the opportunity arose I joined Just Eats in October 2013.
I have spent time taking new classes and stay up to date by reading materials related to diet and health. I can use the diet information provided by my clients' healthcare professionals, nutritionists, and doctors plus my culinary knowledge to prepare foods that promote my clients' wellness.
Focusing on special diets has been a natural progression for me. I have worked with clients who have had multiple food allergies, Pancreatitis, Diabetes, low caloric intake, low sodium diets, as well as gluten-free and dairy-free dietary needs such as Paleo and Raw diets.
As I work with my clients, they start learning about healthy foods and how to incorporate nutritious foods into their everyday life. It's a fun and wonderful growing experience for everyone, including myself since I am not a nutritionist but a classically trained chef.
With the belief that meals need to be prepared from scratch, using chemical-free, farmer-sourced ingredients and humanely-raised grass-fed meats whenever possible, the result is best for your health, best of the environment, and the absolute best tasting."
– Chef Noelle
---